Harcourts is thrilled to have been awarded the Reader's Digest Quality Service Gold Award in real estate sales, as voted by the people of New Zealand, for the fourth year in a row.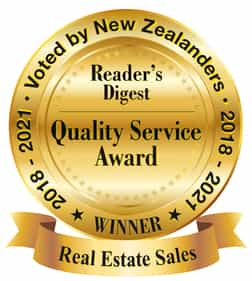 At Harcourts, our clients tell us they appreciate our expert local knowledge, the way we tailor our services to their needs, and our willingness to go that extra mile to make their property experience enjoyable.
"Whether you're selling, buying, or renting, the process can be stressful at the best of times," says Harcourts Managing Director Bryan Thomson. "To have been awarded Gold in a year as challenging as this one has certainly been extra special."
"It is Harcourts' consistent commitment to service excellence that has been instrumental in us retaining the Gold Quality Service Award for four years and the Reader's Digest Most Trusted Award for eight consecutive years. Our teams around the country always strive to be the best and offer honest, personalised service that our clients tell us they love."
The annual Reader's Digest Quality Service awards are based on four criteria: providing a personalised customer experience, understanding the customer's needs, making the process quick and easy, and meeting or exceeding customer expectations. Market research agency, Catalyst, surveyed 1,500 people who were asked to nominate a service provider in a wide range of categories, including real estate sales. To qualify to vote in a category, the respondent must have used a service provider from that industry.
Reader's Digest says it is confident that the Quality Service survey results for 2021 are a truly accurate measurement of New Zealand consumer sentiment.